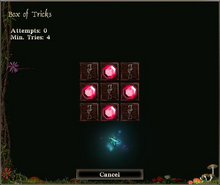 Box of Tricks are special chests found in various places in the world. They look like normal chests, but the player has to solve a puzzle before the content can be claimed. The goal is to remove all gems from the 9x9 field. However, for every click, all adjacent fields are inverted, so gems become blanks and blanks become gems.
Solution
Edit
The solution to the puzzle:
Ad blocker interference detected!
Wikia is a free-to-use site that makes money from advertising. We have a modified experience for viewers using ad blockers

Wikia is not accessible if you've made further modifications. Remove the custom ad blocker rule(s) and the page will load as expected.