Spell Merchants are special characters that will sell spells to the player.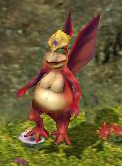 They can be found in various places and every merchant will sell a different set of spells. If the player decides to buy spells from the merchant, he will select five random spells from his set. However, these five slots can also be filled with blanks, which reduces selections of spells. The player can only buy one skill at a time and the merchant will always charge 10 coins, no matter if the player buys a spell or not. If the player has obtained the Cloverleaf, the number of blanks is permanently reduced.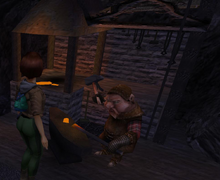 The smith is a dwarf who will sell metal spells if the player has obtained the Tools of the Dwarves. With the exception of beeing a dwarf, his spell sale works identical to the spells merchants system.
Locations
Edit
Spell merchants can be found in these locations:
| Location | Spell Types |
| --- | --- |
| Tiralin | stone, water, nature |
| The Fairy Garden | energy |
| The Cottage | water, nature, stone |
| Dunmore | water, psi |
| Catacombs of Tiralin | ice, chaos |
| The Realm of Clouds | light, air |
| The Realm of Clouds | light |
| Monagham (smith) | metal |
| Monagham | fire, psi |
| The Shadow Realm | fire, chaos, ice, dark |
Ad blocker interference detected!
Wikia is a free-to-use site that makes money from advertising. We have a modified experience for viewers using ad blockers

Wikia is not accessible if you've made further modifications. Remove the custom ad blocker rule(s) and the page will load as expected.